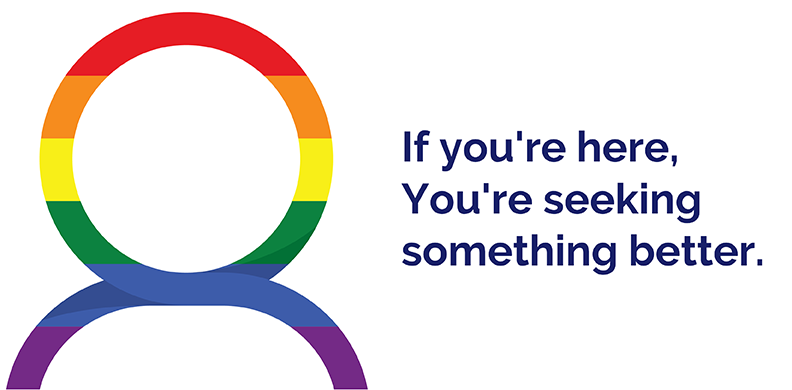 Welcome to Better Pride
If you're here, you're seeking something better. Whether it's in your relationship, coming out to others, changing your family situation or strengthening your mental health and wellbeing, Better Pride can help.
We understand it may be distressing, emotional and confusing – but we're here to help you reach a better place.
We believe that excellent support for LGBTIQ+ communities requires three key elements:
LGBTIQ+ identifying and ally Clinicians: All our Practitioners have worked with community members in a variety of capacities and understand the complex and relevant issues that can arise;
Highly skilled and qualified Clinicians: All of our Better Pride Practitioners complete specialist training and education in the LGBTIQ+ space;
A commitment to social justice and standing up and speaking out against discrimination:
For some, the social climate makes it difficult to maintain an authentic sense of self: especially in the face of social expectations and pressures. Our Better Pride service supports LGBTIQ+ people through facilitating community access, empowering clients, and working to diminish the impact of systemic challenges.
Who are we here for?
Families (biological, social and chosen) – either together or separated/separating
Couples (together or separating or reconciling)
Individuals
Young People (including children from ages 5>)
Elder/Senior people (individuals, couples, families – biological and chosen)
Support for LGBTIQ+ families in conflict gain clarity about each person's perspective, explore their options and make decisions that will work best for their situation.
Better Pride LGBTIQ+ services
Mediation, including Separation/Parenting/Care
Agreements/Property/Finance
Donor Planning
Personal relationships
Intimate relationships / partnerships
Family relationships (both biological and chosen)
We can help with
Life changes and challenges
Anxiety and depression
Bullying
Isolation
Estrangement from loved ones
Trauma from past violence – intimate partner, family, intercommunity violence and lateral violence.
Better ways to separate- our mediation alternatives
Better Pride Practitioners understand Family Law and work alongside the legal system to provide a less stressful and more cost effective way to navigate these already difficult times.
The Better Pride service is provided by Accredited Family Dispute Resolution practitioners experienced in separation and family law issues. They can support you with:
Parenting plans and arrangements
Post separation parenting decisions, including supporting rainbow children
Mediating agreements about finances and property
Decisions involving guild families/Co parents/ carers
Grandparent arrangements
Arrangements for pets
Better Pride also offers other forms of mediation, such as:
Parent and adolescent mediation
Donor planning
Guild families/Co parents/ carers
Better Support for counselling and mental health
We can provide a range of therapeutic supports for couples, individuals, older people, families, children and young people.
Our Practitioners include case workers, social workers, family dispute resolution practitioners, counsellors and psychologists.
Our Better Pride Team
From your initial contact with us you can expect non-judgmental, informative service and genuine support in finding the right service for you. To use our service, you will first need to contact our Intake and Assessment team and let them know that you are interested in accessing Better Pride services.
Better Pride Practitioners identify as members or allies of the LGBTIQ+ communities. We offer a depth of experience working with children and young people as well as adults and families, including older people.
Please call us on our dedicated Better Pride contact number on 1800 531 919